In our modern era, few channels offer you the opportunity to know what state your vehicle is in like onboard diagnostics II (OBD2) apps. Companies have been focusing on mobile app development to create apps that can show users the diagnostics of their car. We doubt there's a better way to listen to what your car is saying so that you can save yourself some heartache and road inconveniences.
Most OBD2 apps virtually allow you access to real-time information about your vehicle engine and provide results that cover parameters like speed, the angle of rotation, pressure, and temperature.
However, you can face a hard time selecting the best OBD2 app for android and iOS for car reviews because there are thousands of such tools swarming the app market. You wouldn't want to waste your time testing crappy OBD2 apps, so you'll be better off by picking anyone from this comprehensive list of best OBD2 apps to install on your iOS or Android devices.
There have also been several cases where drivers and car enthusiasts purchase OBD2 apps only to realize that they have been played and thus they don't get full value for their money. We don't want that to happen to you.
So, we will now review 17 top OBD2 apps in this article, and any of them would be an excellent fit for your car.
Jump to your favourite topic
If you got that, then let's roll!
Best OBD2 apps for Android/iOS
1. Torque Pro (OBD2 & Car)
The Torque Pro is an OBD2 Bluetooth app that is highly rated by many vehicle owners as the best OBD2 app for Android over 1,000,000 downloads. However, you have to pay around $5 to get the app on the Play Store, but it is worth the hassle according to trusted reviews.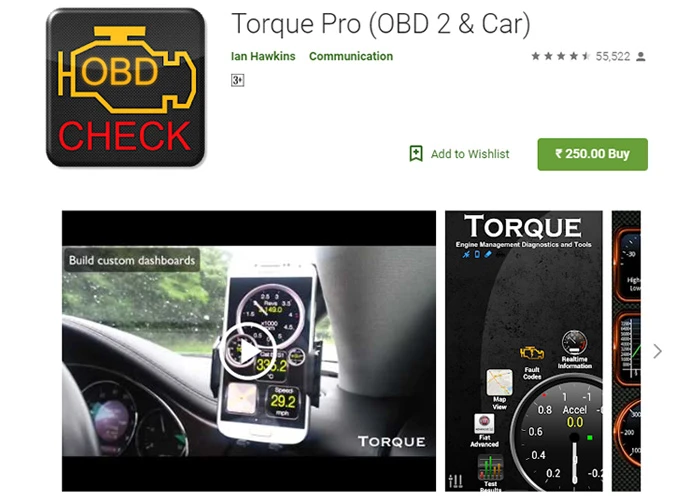 With Torque Pro will get to see what your car is doing in real-time on a beautifully laid out and customizable dashboard on your mobile screen. There is also the possibility of exporting compiled data to Torque Pro servers or email so that you can use it later.
Pros
Multiple themes to change the look of your dashboard
Supports screenshot sharing to social media and email
An in-built GPS-based compass
Graph data and car dock support
CO2 emission readouts
Track recorder to provide video coverage of your journey
Alarms and warning for below par car performance- for instance when coolant temperature exceeds 120°C
Supports lower android versions including 2.0!
Cons
Must be paid for from the onset
Bluetooth pairing bug that can be fixed with an update
2. OBD Auto Doctor
The OBD Auto Doctor operates almost in a similar fashion as most car diagnostic apps that we will cover next. It is compatible with ELM327 Bluetooth and Wifi adapters and tracks all crucial vehicle sensors and parameters in real-time.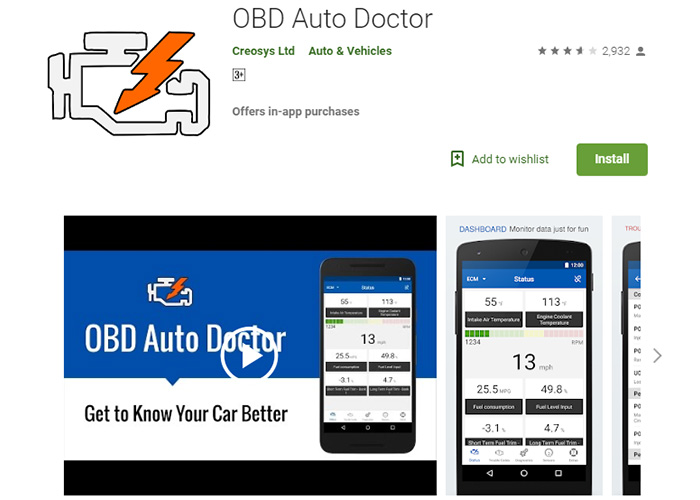 OBD Auto Doctor allows you to monitor multiple control units such as engine and transmission while also supporting the export of collected data via email in CSV format. You will even end up saving a lot of money on your trips since the monitor fuel consumption parameter on OBD Auto Doctor is highly optimized.
Pros
Real-time data on the screen to enable you to take the right decision for your car's health.
Supports numerical and graphical display of sensor data
Compatible with all OBD2 compliant vehicles
GPS support
Helpful customer service team available 24/7
Advanced customization options
Imperial and metric units tracking in the English Language
Over 18,000 trouble codes to be monitored
Tracks readiness status to tell you when a car is ready for emission testing.
Cons
In-app purchases and Premium upgrade required to access additional features
Possible connection issues or incorrect readings.

3. InCarDoc Pro
InCarDoc Pro was among the best obd2 android app for cars review in 2017/2018 and will likely be among the leading obd2 apps in 2019. The application supports high-level car scanning and diagnostic which is presented in an uncluttered home screen.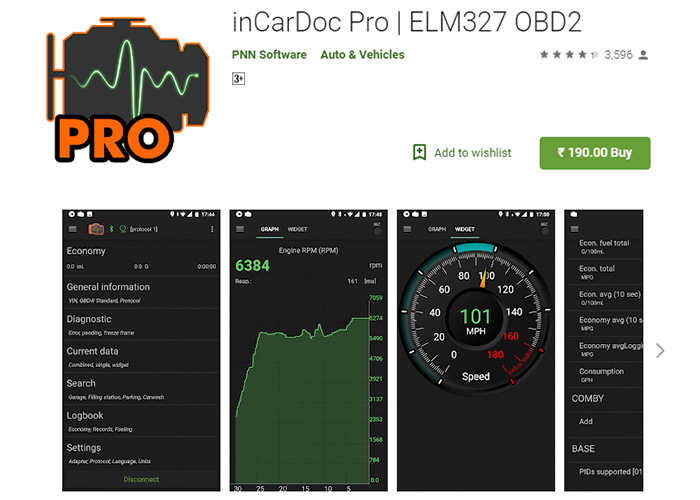 You can download a free version of the app to check adapter and car compatibility before purchasing the app on the store for less than $5. InCarDoc Pro supports ELM327 USB, Bluetooth, and Wifi adapter while also having the ability to work on most new Android devices.
Pros
Compatible with all OBD2 compliant vehicles listed on their site
Read real-time engine and vehicle parameters
Overlay to display economy data in background mode or over a running application
Fuel economy and acceleration widgets
GPS support
Upload reporting data to cloud storage
Share data via email to get professional assistance with car repair
Cons
Supports Android 4.0.3 and up
Possible errors while trying Bluetooth connection
4. Car Scanner ELM OBD2 App
Learning everything about your car and picking up every single parameter being read by your Car's electronic brain (ECU) is possible with this free car diagnostic app.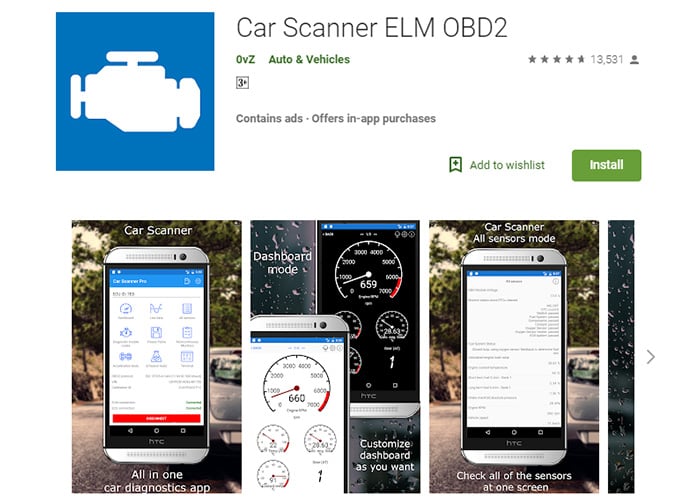 You can get to know about problems before they happen and if you know fault codes and their meaning, then it gets even better since you can fix the minor problems on your own and decide when it is fair to hire a professional mechanic.
Car Scanner ELM OBD2 car scanner is arguably the best monitoring tool if you consider the number of compatible devices. There are versions spread across Android, IOS, Windows PC or mobile. The fact that there have been over 2 million installs of the app across the platforms that they support shows that this car scanner is worth checking out.
You may also find it interesting to know that Car Scanner ELM OBD2 has the best rating (4.7) among all the apps on this list.
Pros
Compatible with all OBD2 standard vehicles
Compatible with most Wifi or Bluetooth OBD2 ELM327 adapters
Customizable dashboard to track your preferred parameters
Fuel consumption statistics
Settings backup and restore
Multiple languages (English, Russia) including Polish in recent updates
Cons
Only supports Android 4.3 and above
You need to pay for in-app purchases to get optimal performance
5. EOBD Facile
The EOBD Facile is an OBD2 Car Diagnostic Android and iOS app that supports all ELM327 Wifi and Bluetooth adapters. With this app on your mobile, you can track almost all the essential gauge/parameters you need to make the right calls for your car.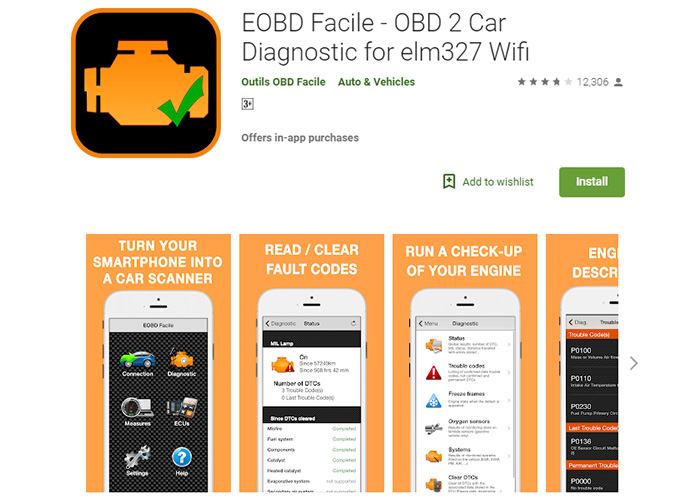 Depending on what your car's ECU provides you should have vehicle speed, engine rpm, engine temperature, ignition timing, engine torque, the amount of air intake and several other gauges displayed plainly on the app dashboard.
EOBD Facile has recorded over 1 million installs since it went live on Google Play Store.
Pros
Real-time display of vehicle sensors
Over 11,000 fault codes and definitions
Delete fault codes and resolve engine light issues
Supports storing of trip records on SD card for later review on the EOBD-Facile PC/ Mac software
Supports route planning which is helpful for long trips
Cons
Requires prior OBD2 app experience to get the best out of it
No support for USB adapters
6. HobDrive
HobDrive is one of the best obd2 apps for Android and also the most expensive to get off Google Play Store. The app goes for around $10, so you should be sure that you'll get full value for your money with its advanced premium car tracking features.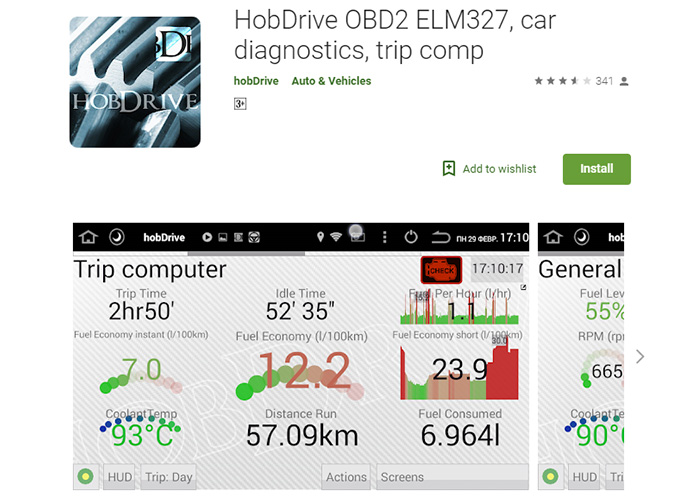 The best thing about HobDrive is it supports all OBD2 compliant vehicles as well as some Non-OBD2 vehicles like Delphi mr240 (Chevrolet) and Bosch.
You can also access HobDrive seamlessly while using CarPCs (Windows/Linux), car audio (Windows CE), Windows Phone 8/10 and iOS.
Pros
A customizable dashboard that displays all the best parameters provided by your car's ECU
Supports GPS and ELM327 Bluetooth and Wifi-adapters
Tracks overheating and suspicious fuel trims
Clear explanation of MIL codes
Estimates car Odometer
Calculates MPG for diesel vehicles without battery help
Pro-version comes with extended graphical gauges
Cons
A difficulty with completing in-app payments for some locations
The app runs only Android version 3 and above.
7. OBDeleven
When we compare the android app development process of the OBD2 apps we've reviewed so far, the OBDeleven app has the edge over all of them. Aside from giving you a clear view of all the parameters from your car's ECU, OBD2 goes one step ahead to include a "One Click App" that you can use to control multiple car options with just a click of a button.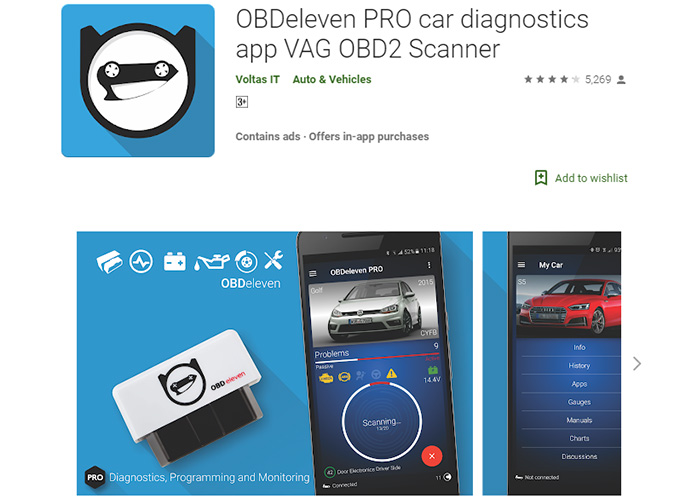 The only thing you should worry about with OBDeleven is that you will need a good network connection to enjoy the One Click App feature. You will also need a Premium upgrade to get access to more exciting car tracking tools. Aside from these barriers, the app is a helpful tool for car reviews and is used by many enthusiasts and mechanics.
Pros
Supports reading and clearing of all diagnostic trouble codes from your ECU
Multiple language support
Has active social media community
Offers car battery analyzer unlike some apps
Manuals containing DIY car fixes
Retrieve history for connected cars
Supports control unit reset.
Cons
Requires network for high performance
Annoying ads until you upgrade to Premium

8. Dash – Drive Smart
Dash Drive Smart is one of the car tracking apps that supports the OBDeleven software as well as many smart car analysis tools. It provides real-time data and claims to work on all cars starting from 1996 models. Yes, you read that right.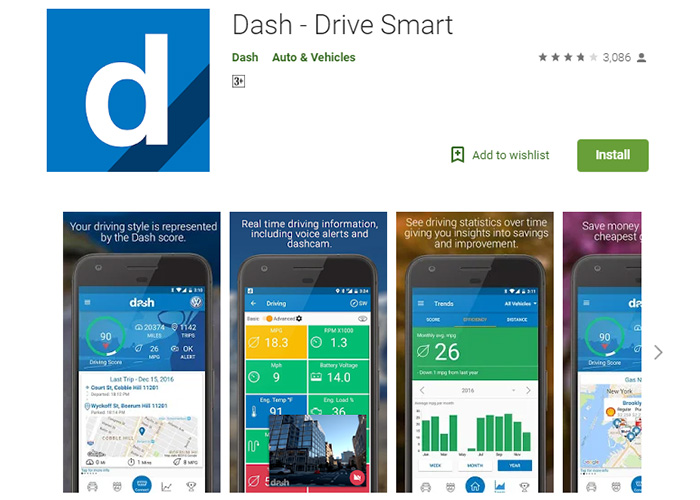 With Dash, you are almost certain of getting all the insights you need to improve your driving experience and performance while also making the best decisions for your car's long-term health. You can even use the app without carrying a device all the time!
Pros
An optimized and customizable parameter dashboard that works in background mode
Provides Driver score and leaderboard to compare your performance with that of other drivers
The app supports multiple vehicles with automatic vehicle identification number (VIN) decoding.
GPS-tracking tool to find out where you parked.
The nearby gas comparison features allow saving money on where you buy gas.
Cons
Complaints about app draining mobile device's battery
Compass feature is glitchy but can be corrected with a new update
Some users face issues with the network connection.
9. Engine Link (iOS)
The Engine Link car diagnostic app is similar to Torque Pro but is only available for iOS devices. The app connects seamlessly with compatible ELM327 Wifi and Bluetooth adapters though there are user complaints in recent time that the Wifi connects feature is failing.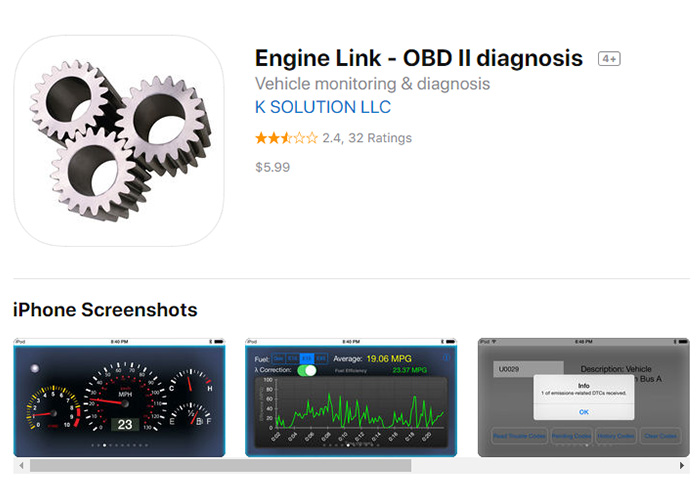 This has led to a low-rating on the app but does not take away the fact that it is one of the best car tracking application on iOS. Engine link is available for just $6 on iTunes and could solve all your car monitoring problems and keep you entirely in charge.
Pros
One stop customizable dashboard to stop tracking parameters you don't need
Control emission rates and fuel consumption
Read and clear thousands of OBD2 fault codes
Heads-up dashboard display option
No in-app purchases or subscription fees
Supports 20+ languages
The latest update supports Torque Custom Pid File
Cons
Users reported a case where app connects without reading ECU data
Requires iOS 8.0 or later to run
10. ScanMaster
ScanMaster is another great car monitoring tool for ELM327 OBD2 adapters. Although it is not as popular as the other scanners, the Android application maintains a decent 4.0 rating with over 1 million installs.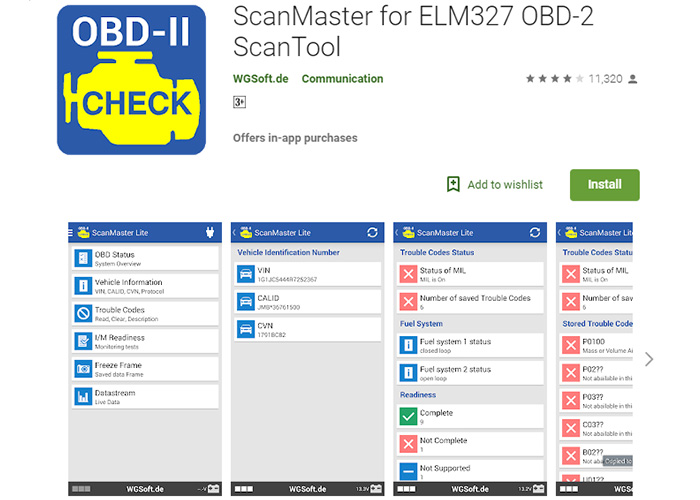 With the ScanMaster app on your mobile, you can get a clear overview of your car's performance in real-time and read fault codes so accurately that your mechanic doesn't rip you off the next time you go there.
The app developers are generous enough to let Lite version (free) users get some essential car parameters, such as VIN, CVN, fault codes and MIL status. However, you must purchase the pro-version to enjoy all the features including thousands of fault codes and easy-to-understand description for errors.
Pros
A handful of tracking parameters on the free version
Supports German and English languages
Easy to navigate
Supports most ELM327 adapters
Supports data recording
Clear graphical representation of data for easier analysis
Cons
An ineffective customer support team
A few cases where some devices are not supported
Compatible with only Android 4.0 and above
11. DashCommand (iOS)
DashCommand prides itself as the ultimate way to turn your mobile into an advanced display for engine data and has lived true to their ambitions. The app had also won the SEMA Show best mobile electronic product award in 2014.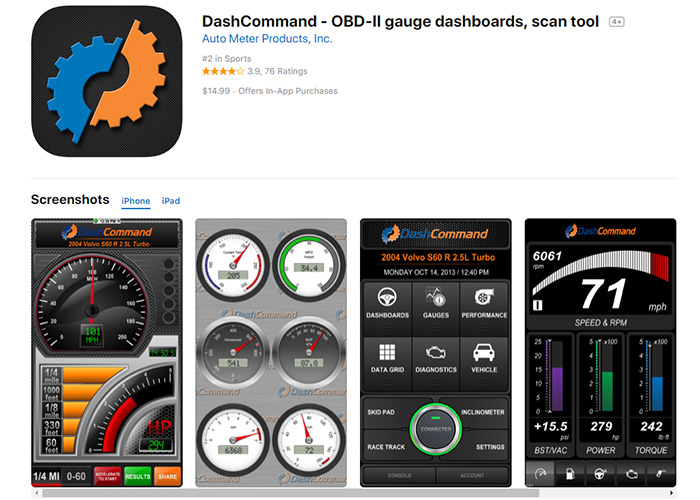 DashCommand is one of the most expensive iOS obd2 scanner app (available for $14.99) on iTunes but features the best performance gauges, fuel economy gauges, engine gauges and emission testing for up to five trips.
Customer reviews show that you'll get full value for your money!
Pros
Easy to use
Allows customization of performance gauges to track your preferred data.
Inclinometer to display rolling angle and vehicle pitch while offroad
Supports data-logging, recording, and playback
A sophisticated trip computer that maintains stats for up to five trips
Graphical representation of collected data
Cons
Not compatible with iPhone X
Compatibility issues with Haltech elite 2599
Contains in-app purchases for some car models
12. BlueDriver
The BlueDriver OBD2 scanner app is available on iOS and Android. It is one of the best free car diagnostic tools too, little wonder it has a 4.6 rating on iTunes with 2 million downloads racked up.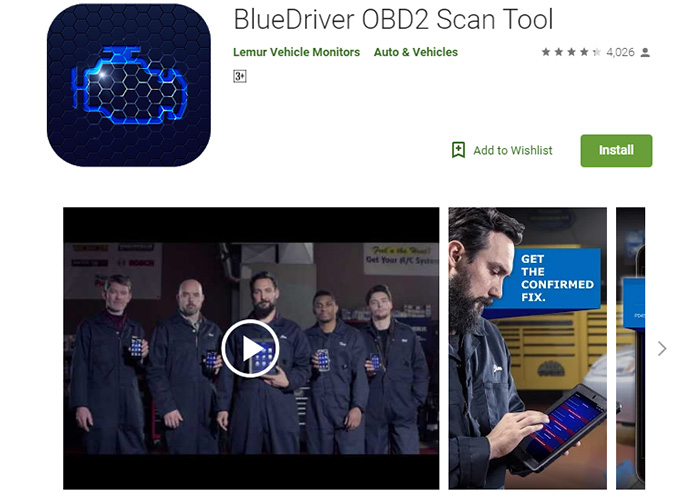 Whether you're logged on to the Android or iOS mobile application, BlueDriver allows you to monitor the most critical parameters from your car's ECU, scan for and clear trouble codes, freeze frame data and share collected data via email.
It even contains some features that are not available on some car tracking apps that you pay to use and for this reason is used by many professional mechanics and auto enthusiasts like you.
Pros
Wireless connection with your car
Supports smog readiness check
Highly reduces traveling costs
Free and regular updates
Displays on-board monitoring test results
Improved diagnostic for ABS, Airbag, Transmission and more
Allows generation and sharing of repair reports
Cons
Requires iOS 8 and above
A few issues with iPhone XR that can be solved with an update
13. GoFAR
If you want to go far and need a high-performance car diagnostic device that keeps you in charge, then you can get GoFAR. The machine practically monitors car health and tracks mileage while maintaining compatibility with most OBD2 compliant car adapters.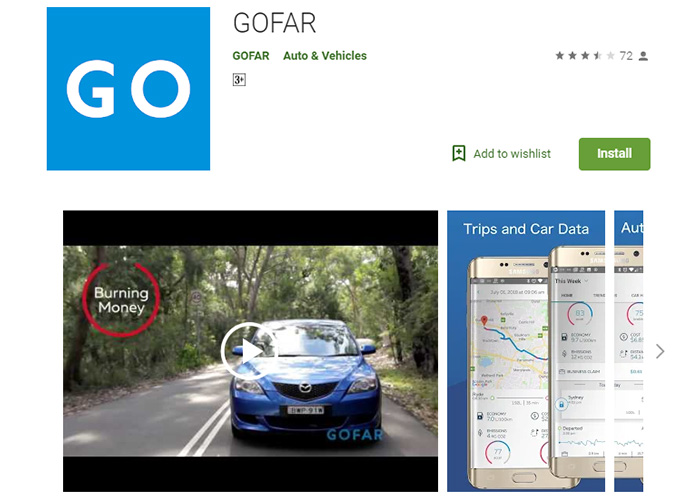 One of the best things about the GoFar car tracking device is that it is IRS-compliant and therefore has the potential to help you save on taxes. There is also a particular focus on fuel savings which you can rely on to cut down travel costs by as much as 10-30%.
The Android and iOS applications maintain a 4.7 rating which is fair for a car tracking service available to a global audience.
Pros
Easy to install and use
Offers one year warranty on initial purchase
Sends an alert in plain English as soon as an error pops up in your vehicle's system
Platform for hiring nearby mechanics
3000+ fault codes and description
Compete with other drivers on the global leaderboard based on costs saved
Sends alerts for checking tire pressure, insurance, and registration
No subscription or ongoing fees required
Cons
Must be purchased from the go at $99
14. FIXD – Vehicle Health Monitor
FIXD is like any other car diagnostic app out there but offers a lot more simplicity without compromising on quality. Fault codes covered on the FIXD app are translated into very easy to read, and understandable terms that will make it possible to take action immediately something goes wrong with your car.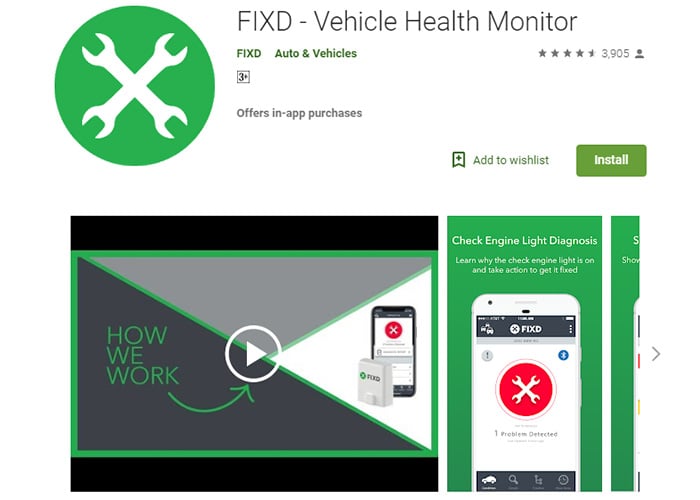 FIXD offers their OBD2 Wifi and Bluetooth adapters for optimal app performance and gauge monitoring. The app is available on Android via Google Play Store and has a decent 4.5 rating by real users.
Pros
Install in minutes and use immediately.
Suitable for first time OBD2 app experience
Allows to schedule maintenance reminders
Alerts for worn-out car parts that need repair or replacement
Easy on-boarding
Buy car parts right on the app!
A helpful customer support team
Cons
Bugs in older app versions
Works with only FIXD adapters
Offers In-app purchases
15. Carly for BMW
Sorry, the last car diagnostic app on our list is for BMW owners and is compatible with adapters provided by Carly.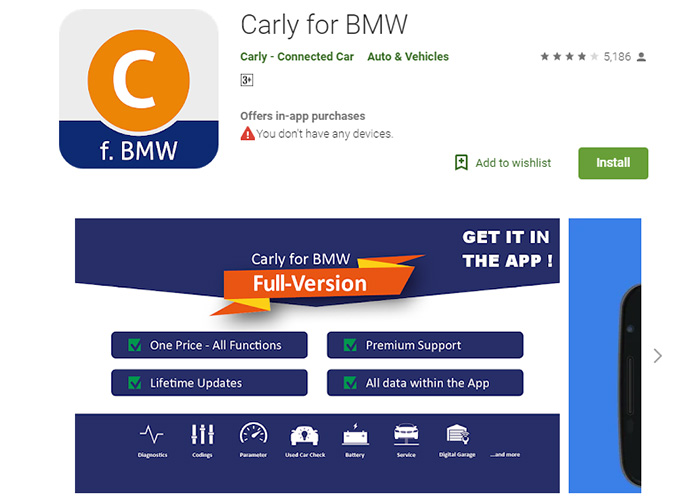 Whether you're a newbie or seasoned BMW driver, few apps allow you to view all vital car gauge and parameters in real-time, and Carly is one of them. The Android App also supports standard OBD features, but you'll have to test for compatibility with the Lite version before purchasing.
Pros
Thorough health check of your car's electronic components
Used car check before driving your new car off that lot
One click control for the electric parking brake
Carly adapters feature premium customer support and lifetime warranty
DIY battery registration support
An excellent customer service team
Cons
Carly adapters are expensive when compared to others in the market
Limited fault codes for BMW 2 series F45/F46
16. Carista OBD2 App
One more such OBD2 App is Carista. It is a bluetooth enabled OBD2 plug. There is also an app accompanying it. The Crista scanner is greatly supported by the following car brands such as Toyota, BMW, Subaru, Mini, Audi, VW, and Lexus.
One of the most interesting features of Carista is that once you have it plugged in, you can use the 'Customize' option in the app. That lets you access and change many different ECU options which normally can only be accessed by the dealer
Pros
Bluetooth Connectivity
Compact
Customizable settings
Phone to OBD2 Scanner Innovation
1-month free trial
iOS and Android support
Detailed Diagnostics 
Cons
17) OBD Fusion
Developed by OCTech, the OBD Fusion app along with a compatible OBD2 vehicle scanner gives you a complete diagnostic report of your vehicle. It is considered to be one of the more popular apps for vehicle diagnostics.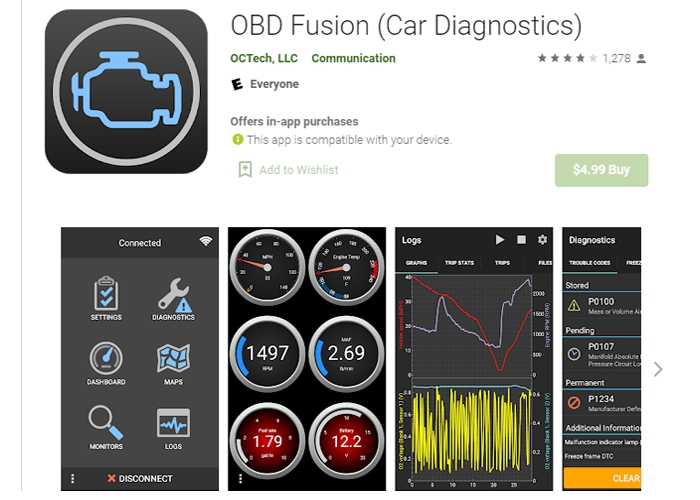 It's selling point is the ease of use. The app is considered to be great for both newbies and professionals as well. Customizability in the dashboard is one of the great things about the app. You get to see the right information that you desire and can have a closer look on the various engine functions.
Pros
Customizable Dashboards
Compatible with Both iOS And Android
GPS Navigation Features
Emission Monitoring
Extensive Data Logging
Cons
Features Locked Behind Expansion Packs
No Diagnostic Data Sharing Features
Conclusion
Now that you have a list of best OBD2 apps for iOS/Android, you may want to go out and install any one that suits your car.
Wait. There's no way to confirm the compatibility of your car with your desired OBD2 app without functional testing it, so take some time to check on this before you commit your money. Most OBD2 app developers offer a free lite version for this purpose while others do not and want you to get the paid version from the onset. Find out which one works best for you and settle with it.
Finally, here are our top two picks from the long list.
Best Android OBD2 App
Torque Pro – Paid service with excellent features and compatible with many cars.
Best iOS OBD2 App
OBD Fusion – Paid service, easy to use and tracks all vital parameters
This article originally appeared on https://magnetoitsolutions.com/blog/best-obd2-android-ios-apps-for-cars-review