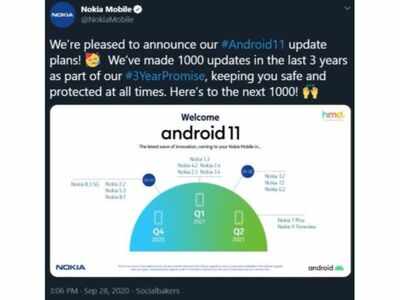 Image courtesy: neowin
When it comes to smartphone brands that are regularly rolling out the latest Android updates, HMD Global is among the ones that lies on the responsible side. As we have seen in the past, it has been consistent with the updates and even extends support to handsets across price categories.
This year, however, it has been almost a month since Google rolled out Android 11 — the latest edition of the Android operating system update — and the company is yet to make a proper announcement about it.
A report by NeoWin has claimed that the official Nokia Mobile Twitter account posted an image — which has now been deleted — that shows the detailed layout of which Nokia-branded handset gets Android 11 update when.
As per the report, Nokia Mobile tweeted, "We're pleased to announce Android 11 update plans. We've made 1000 updates in the last 3 year as part of our 3 year promise, keeping you safe and protected at all times. Here's to the next 1000!"
Along with this tweet, the Nokia Mobile posted an image that shows the tentative plan for 14 Nokia-branded handsets.
The first Nokia handsets to receive Android 11 update are likely to be Nokia 8.3 5G, Nokia 2.2, Nokia 5.3 and Nokia 8.1. These handsets are said to receive their Android 11 update somewhere between the fourth quarter of 2020 and first quarter of 2021.
During the first quarter, Nokia 1.3, Nokia 4.2, Nokia 2.4, Nokia 2.4 and Nokia 3.4 are said to receive their Android 11 update. Immediately after that, Nokia 3.2, Nokia 7.2. And Nokia 6.2 are said to get their update and lastly, by the time it is the second quarter of 2021, Nokia 1 Plus and Nokia 9 PureView are said to get their update.
This article originally appeared on https://timesofindia.indiatimes.com/gadgets-news/this-maybe-android-11-rollout-roadmap-for-nokia-smartphones/articleshow/78376751.cms