Android 7.0 Nougat is the new version of Google's mobile operating system, used by billions of devices around the world.
It features longer battery life, improved multitasking and smarter notifications in a slimmed down and refined Android experience – following on the work done in last year's version 6 Marshmallow
It is faster, more polished and a subtly-better experience all-round. Apps install more quickly, the OS can be smaller in size and updates to Android can be installed on the fly, without having to wait for 10 minutes while it reboots, if you have a new device. The new Vulcan API graphics system is also baked in for better gaming performance and Nougat will support Google's Daydream virtual reality system, eventually.
Nougat is not, however, a major visual overhaul of Android. Those that have used Marshmallow on any of Google's Nexus smartphones or devices with little in the way of modification to Android, such as the OnePlus 3, will instantly recognise it.
This review was conducted using a pre-release version of Nougat running on various Google Nexus and Pixel devices, as such some small things may vary on the production version of Nougat released today.
Improved notifications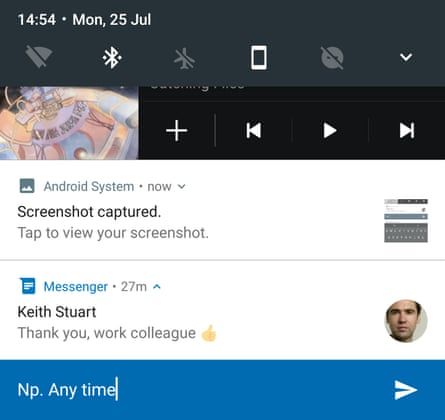 Nougat makes quick replies default for almost all communication-based notifications. Photograph: Samuel Gibbs/The Guardian
Most of the work has gone on behind the scenes but the one obvious change in Nougat is to notifications. They're now flatter and wider, filling the entire width of the screen on a smartphone, and joined directly to each other, which wastes less space than Marshmallow's card-like appearance. Multiple notifications from the same app also cluster together, which cleans up the notification shade and makes it easier to see what's what at a glance and dismiss en masse.
The biggest functional change for notifications, however, is the wider roll out of quick reply functions. Google's apps such as Messenger and Hangouts have had quick reply features for a while but now basically every communications app should have the feature.
Users can hit reply from the notification and type their message directly into the box under the notification, which will also show a small snippet of the history of the conversation if you haven't opened the app since the last reply.
Quicker quick toggles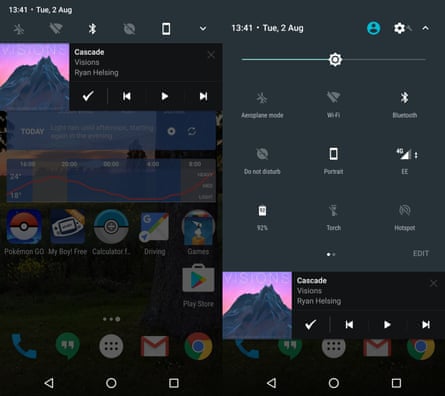 The first stage of the notification shade pull down now includes a top row of quick toggles, which then pulled down again reveal the whole lot. Photograph: Samuel Gibbs/The Guardian
Above notifications Google has also put a row of icons for toggling features such as Wi-Fi, Bluetooth, screen rotation and similar, which can be quickly tapped without expanding to the full set of quick toggles. It reduces the number of swipes needed to turn off Wi-Fi, for instance, by one and is a simple, helpful new addition.
You can customise what appears there, by modifying what's in the top of the full quick toggles pane. Dragging down from the top with two fingers still opens up the full quick settings pane in one motion.
Multi-window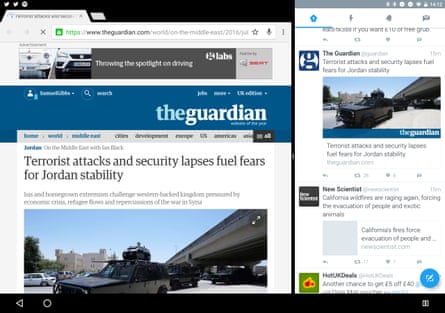 Multi-window makes Android tablets more useful for productivity and can be used either in landscape or portrait. Photograph: Samuel Gibbs/The Guardian
Multi-window, or side-by-side split screen support, is the other big new functional addition. There are three ways to activate it. Pressing and holding the so-called overview button with one app on screen invokes the recently used apps list in a split-screen view to select a second app to put on screen. You can also do it from the recently used apps list by taping and holding one of the apps in the list and dragging to the top of the screen or the left or right-hand sides if in landscape, allowing you to pick the other app from the list.
A hidden method activated in the System UI Tuner works by swiping up on the screen from the overview button.
Once in split-screen mode, Nougat behaves similarly to Windows and iOS. Users can drag the black bar in the middle to change the size of the split, or remove it altogether. Pressing and holding the overview button, which shows as two halves when active, will cancel multi-window too.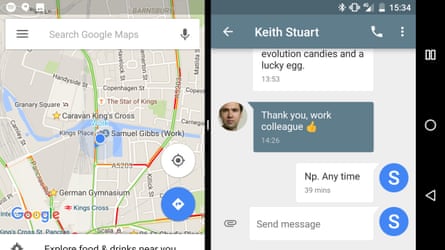 Portrait multi-window mode on a smartphone isn't very useful, but landscape split-screen can be useful on larger devices. Photograph: Samuel Gibbs/The Guardian
It works really well, with almost every app supporting it. Only a very small minority of apps actively block it, and those might be updated in the near future to support multi-window.
It's a feature that should have been there for a long time for Android tablets and makes them more productive as work machines. It's less useful for smartphones, although landscape multi-window on large-screen phablets can be useful in situations where you need to keep an eye on two things simultaneously, such as a map and a conversation.
Double tap overview to switch to most recent app
Double-tapping the overview button will also switch straight to the last-used app, which makes bouncing between two apps a lot faster. Copy text or links between apps is now rapid. Other devices, including the OnePlus 3 have had this feature for a while, but it's good to see it baked into Android.
Longer battery life thanks to Doze 2.0
One of the best bits about Android 6.0 Marshmallow was the introduction of Doze, a feature that helped save battery when the phone or tablet wasn't moving, such as being placed on a desk. It made a big difference to standby battery life.
Android 7.0 Nougat applies the same battery-extending features to when the phone is moving too. When the screen is off, Nougat has much tighter controls on what can and can't access data, how frequently and how often it wakes the phone up. The result is between 15 and 20% longer battery life in my testing on a Nexus 6P.
Facial recognition improvements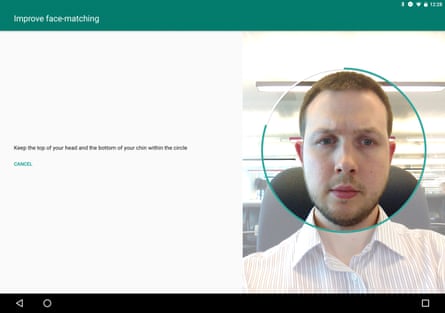 Nougat improves Android's smartlock feature, making face matching significantly faster and more accurate. Photograph: Samuel Gibbs/The Guardian
Google's smart lock features have been around for a while. They use a combination of sensors to know when to deactivate the screen lock and when to make sure the passcode is always required.
Facial recognition has been available for a while, but the trusted face system has significantly improved since Android 6.0 Marshmallow, which is particularly useful for tablets and other devices without a fingerprint scanner. Using a Pixel C, the system went from slightly useful in the odd occasion when it worked to unlocking the device about 80% of the time.
In fact, the onlytimes it didn't recognise my face were when I was wearing sunglasses and overly large headphones.
Verdict
Overall Android 7.0 Nougat is a great update. It makes some significant changes under the hood that provide benefits including longer battery life. The visual tweaks are subtle and most will likely be masked by the customisations made to Android by third-party manufacturers.
The quick-reply additions to notifications feel like they should have been there from the start. But perhaps the best small tweak that all manufacturers should now adopt is the ability to double-tap the overview button to quickly jump between the last two used apps. It's so much faster than bouncing to a menu and back, and takes no dexterity at all to activate.
One thing is certain, however – if you didn't like Android Marshmallow, Nougat isn't going to do anything to change your mind.
Google's Nexus devices, including the Nexus 6, 5X, 6P, 9 and Nexus Player, as well as the Google Pixel C tablet, will receive the update over-the-air starting today. The LG V20 will be the first new smartphone to launch with Nougat due for release soon.
This article originally appeared on https://www.theguardian.com/technology/2016/aug/22/android-7-nougat-review-battery-life-multitasking-operation-notifications-facial-recognition-android