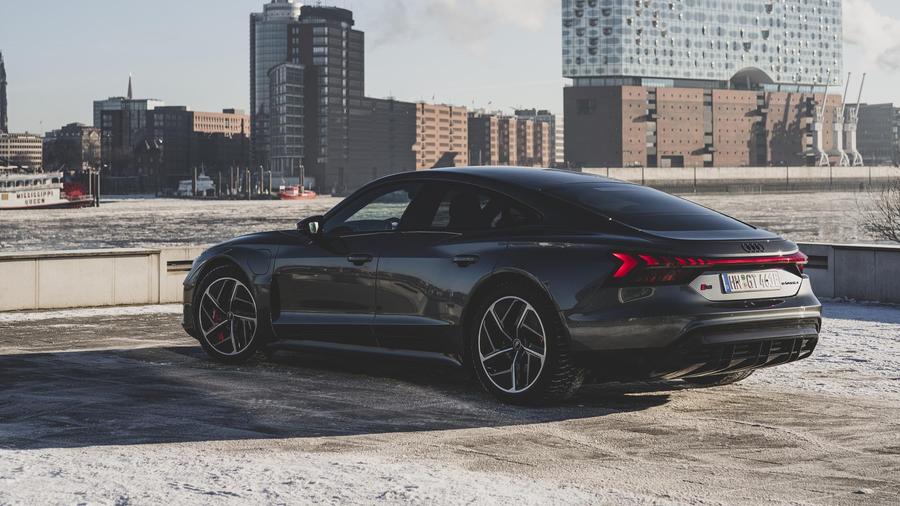 The acceleration time isn't as rapid as the Porsche Taycan's which, in its most visceral form, slays the three-second marker. The fastest RS version does 0-62mph in 3.3 seconds. But it's not that sort of car. This is an electric grand tourer, which marries power with comfort and space for the best possible package.
The total power output of the RS version is 646 horsepower (475kW) in boost mode, or 598 horsepower in normal times, which is as much as anyone needs on UK public roads. And, boy, does it go round a corner quickly, thanks in part to all-wheel steering. But you feel the weight and size whichever way you drive it.
For the standard E-Tron GT quattro, that power figure reduces to 476 horsepower, but in return you get better battery range. Audi says the range provided by the RS's 93kWh battery is a maximum 280 miles, and an extra 15 miles for the standard E-Tron GT quattro. There are charging ports on both sides of the car, and you can charge with a domestic wallbox, three-pin socket (not that we'd recommend the latter, on safety grounds) or fast DC public charger that – best case – give you 80 per cent charge in about 25 minutes.
This article originally appeared on https://www.autotrader.co.uk/content/car-reviews/audi-rs-e-tron-gt-review-saloon-2021