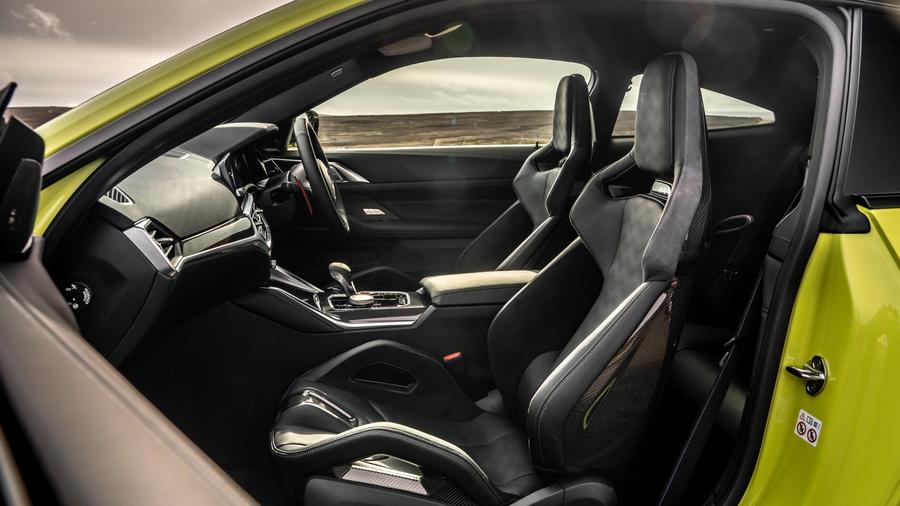 The M4 is a specialist performance car built for speed, not comfort, and everything about it is geared to this end. Accordingly the suspension is stiff, the steering reacts quickly and the response to the throttle and brake pedals is instantaneous. Thankfully there are lots of ways you can tune all these parameters to suit different driving situations, and 'M' buttons where you can pre-set other configurations and have them ready to go. This means you can drive through town with the most comfortable suspension setting, a 'softer' brake pedal and more relaxed engine response before dialling up a sportier character with one of the two bright red 'hot keys' on the steering wheel. The differences are so dramatic it almost feels like having two, or even three, different cars in one. In our experience 'Comfort' for the various settings works well for everyday driving, this and a combination of 'Sport' making twisty roads much more fun. 'Sport Plus' makes the M4 pretty harsh to drive and is really geared for race track use, but you can at least choose.
Credit to BMW, too, because it's made this new M4 considerably more refined and comfortable than the previous version, with greater bandwidth between its modes. There's a bit more tyre roar through the frameless windows than the saloon M3 version, so if you want better refinement that's the one to go for. On the flipside the M4 feels sportier so choose according to priority.
Generally the inside of the M4 feels like a very well-equipped version of a regular 4 Series, which is no bad thing. The optional racing bucket seats are a distinctive addition, the slim carbon fibre frame and lairy upholstery certainly eye-catching. The figure-hugging design is more comfortable than it looks, too, though it does grip you very tightly indeed and may not suit drivers or passengers of a fuller figure. They're not the easiest to get in and out of, either. But once you're in, you're in.
This article originally appeared on https://www.autotrader.co.uk/content/car-reviews/bmw-m4-review-coupe-2020