Multiplayer Game Development Made Easy | Photon Engine
Please enable Javascript to continue.
Skip to main content …
Industries CIRCLE NON-GAMING Benefit from the complete suite of Photon products plus exclusive license options.
Unparalleled Cross Platform Support. Proven in Countless Games.
Empower your team with the best Multiplayer Engines.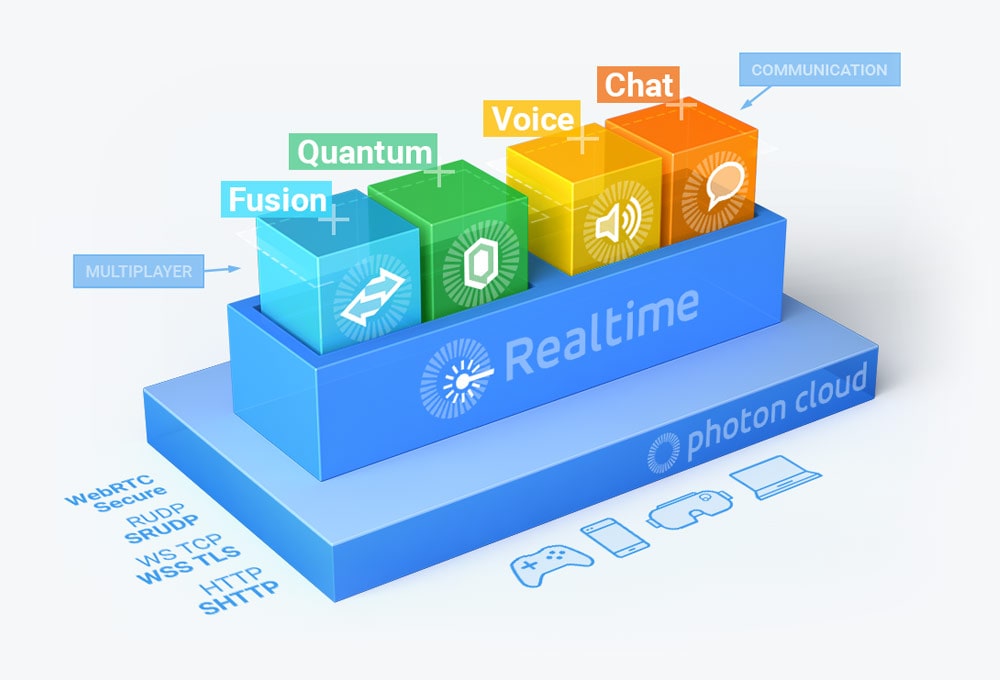 Fusion and Quantum are ESport grade multiplayer engines made for Professional Developers. We produce the highest performance no matter the gameplay or where you are on our planet.
Try Photon FREE
Cookies,
anyone?
We use cookies and related technologies to enhance your experience, show you personalised content and analyze performance and traffic on our website. By clicking on the "Accept All" button you consent to the use of non-functional cookies and the subsequent processing of personal data to optimize our website and services as described in more detail in our Privacy and Cookie Policy.
By clicking on the "Customize or Deny all" button you can decide otherwise. Clicking on the "Customize" button will take you to a page where you can configure the usage of non-functional cookies (and related technologies) or deny all of them. You can access these settings at any time and also subsequently deselect cookies at any time in the footer area of our website.
Cookie Overview
We use the following categories of cookies and related technologies to enhance your experience, show you personalized content, and analyze performance and traffic on our website. We respect your right to privacy and accordingly you can chose to not allow some types of cookies (and related technologies). Click on the different category sliders and change our default settings to manage your cookie settings.
For more information on the specific cookies/related technologies we use and on how we use these, please see section 15 E. of our Privacy and Cookie Policy.
ABSOLUTELY NECESSARY
Authentication cookies we use are required to run our services … Cookies are required: Link
REQUIRED OFF
FUNCTIONAL AND MARKETING COOKIES
These cookies collect anonymous data and allow us to optimize our website and user experience. These cookies are listed here:
ANALYTICS
Help us to understand how visitors interact with our services, enables us to analyze and improve our services (also through third party analytics).
ON OFF
TAG MANAGER
Allows us to manage measurement codes and related code fragments collectively known as tags on our website.
ON OFF
By using this site, you are agreeing to our use of cookies. Learn more in our Privacy Policy.
Cookie Settings
Photon uses cookies to identify you as logged-in user, to improve your experience and for marketing. Review and manage your cookie settings below to control your privacy. For more information on how we use cookies and what each cookie stands for, please see our Privacy Policy.
This article originally appeared on https://www.photonengine.com/