Traveling these days is a hassle, no matter why you're going, or where — and the necessity to track your expenses along the way just adds to the irritation. A good app, though, can make things a lot easier — not only during the trip, but afterwards as well, when you have to report it all to your (or your company's) accountant.
The following six Android apps help users track and report on their expenses. Some are strictly for business purposes; others can be used for both personal and work finance tracking. All of these have been updated within the last six months and have earned a rating of at least 4 out of 5 stars on Google Play by at least 100 users.
All that being said, they encompass a fairly wide range of features. All offer the ability to manually enter an expense, to categorize it, and to either create a report or export the data so it can be used in a spreadsheet or other format. Most allow you to photograph your receipts so you have proof of payment, and a couple, such as Abukai Expenses and Expensify, even extract information from those photographs.
All of these apps have free versions, which are the ones I tested. For each, I entered a number of expenses manually; when available, I added photos of receipts. I exported those expenses as a spreadsheet or PDF, depending what was available, and then explored the app further to see what other features it offered.
Some offer ad-free versions for an additional fee while others offer "Pro" versions with more advanced features; Abukai and Expensify both also have corporate versions with enterprise functionality.
All the apps were tested on a Huawei Honor 6X smartphone running Android 7.0.
As with all apps, which one you choose depends on your individual needs, the needs of your company and what type of interface you're most comfortable with.
Abukai is a company that sells a number of business productivity products, one of which is Abukai Expenses. The app allows you to photograph your receipts, check the info, enter any additional data and upload it to create a report.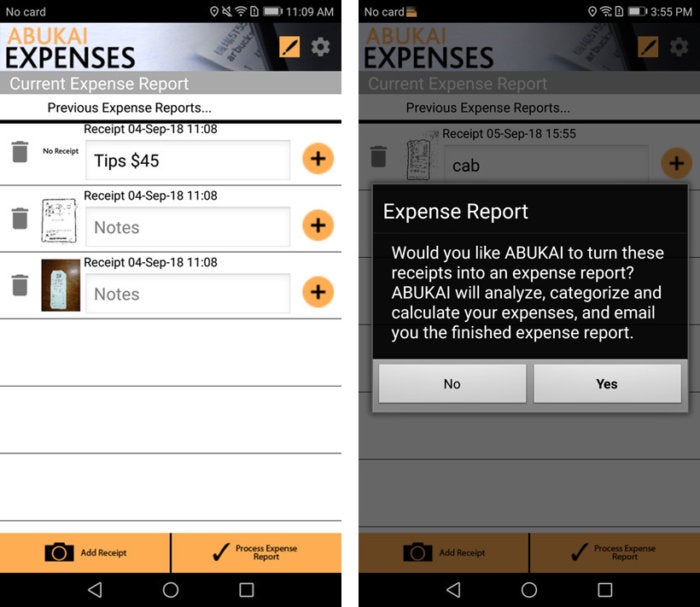 IDG
Abukai concentrates on photographed receipts, but you can add an expense by typing the info into a note field (left). Once you've listed your receipts, you can turn them into an expense report (right).
Data entry
Unlike some of the others here, Abukai is strictly for business expense reports. The assumption is that you're going to have paper receipts for all your expenses and that the app will provide a way for you to report those expenses without having to actually type in the information. It opens on a listing of your previous expense reports; two buttons at the bottom are labeled "Add Receipt" and "Process Expense Report."
When you add a receipt, you are dropped immediately into a photo app; if you are dealing with a black-and-white receipt, you are encouraged to use a mode called "Copy Look" which converts the photo to a simple black-and-white format. You can, if you want, add a descriptive note, either on the fly or from a list of predefined notes.
By clicking on a small icon on the upper right of the screen, you can also add a multipage receipt, add a receipt from your phone's photo gallery or add an expense without a receipt. For the last, you can only type each expense into a single Notes field (as in "Taxi $45"). I tried it out and was able to generate an expense entry using this method.
If you have electronic receipts (PDFs or emails, for example), you can take a screenshot of each receipt and add it as described in the previous paragraph. Users with corporate accounts can also email in PDF receipts.
Reports and other features
Once you've collected and photographed all your receipts, it's time to hit that second "Process Expense Report" button, which causes Abukai to email you a report of your expenses. A screen lets you forward the report to anyone else (such as your boss) or use a custom format for your report, among other options.
It did so quickly and efficiently. About 40 minutes after I told it to process a report, I received an email with several files attached: a PDF copy of three receipts I had photographed, and report files in five different formats: XLS, XLSX, CSV, OFX and LIF. I took a look at the XLSX (Excel) report and was pretty impressed: In a nicely formatted spreadsheet, it got all the receipts correct.
Bottom line
Abukai comes with a variety of formats to fit corporate expense needs and offers individualized features for companies, such as designing specialized reports and forwarding them to the appropriate staffers.
There are a few glitches that companies will have to be aware of. Any expenses that do not have receipts — such as tips, for example — will have to be manually entered, as will any corrections. But on the whole, organizations that want a strict accounting of its employees' expenses should consider Abukai.
AndroMoney was the first app that I looked at — and it presented a high bar that some of the others struggled to meet. Although it's described as a general budgeting app, it would work for business people looking to track their expenses if it only included an OCR feature.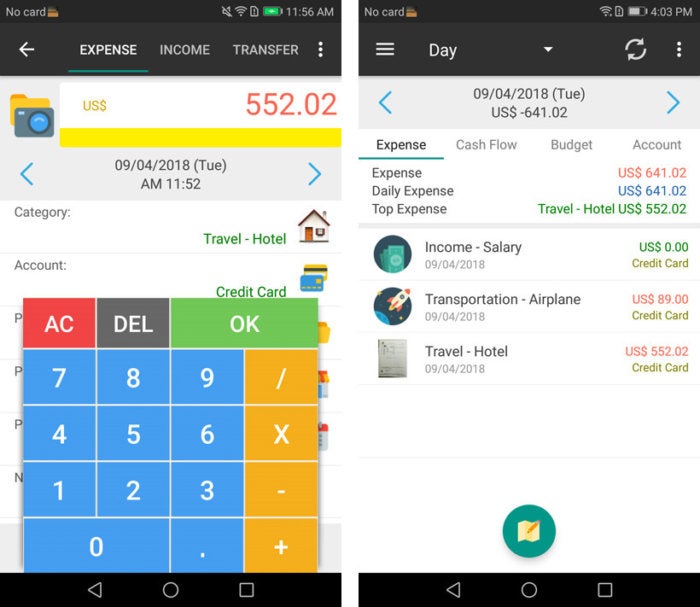 IDG
AndroMoney's colorful entry screen lets you enter data into a variety of user-configurable fields (left). Its daily view of your expenses can also be changed to a weekly, monthly or yearly view (right).
Data entry
If you do plan to use it as a business expense app, try not to be put off by the design, which is bright, bold and not anywhere near as sedate as most financial apps are. For example, although you start at a summary screen, when you click on "New" for an entry screen, you're confronted with fields decorated with colorful icons and a bright blue, gold, red and green calculator.
You use the calculator to enter your amount; you then can choose a category, account (credit card, cash, etc.), specific project, payee and whether this is a one-time or periodic payment — every second day, for example. (Although you can't do anything as complex as, say, twice a day for weekdays, which would be handy for entering commuting expenses.) You can also add a freeform note and a photo of a receipt. However, it cannot pick up data from those photos.
AndroMoney is extremely configurable. For example, each category has a series of subcategories, making it simple to, say, add an expense for Car > Tolls. As with the main entry screen, the layout is bright and easy to read; main categories are on the left and their subcategories listed on the right. And if you enter an expense and find that none of the existing categories or subcategories fits your need, you can add a new one immediately (rather than having to leave the entry and go to a separate screen).
This ease of use extends to the other entry fields as well. When you're done, you can tap on either "Add Next" or just "Save." With the former, the previous settings are retained (except for the amount). Unfortunately, there is no running total on the entry screen — to see that, you have to tap on Save, which brings you back to the main summary screen.
Reports and other features
AndroMoney uses reports as a visual way to show you your finances rather than a way to send them to others; as a result, the Reports feature offers pie charts, trend charts and bar charts that can be filtered in a variety of ways. If you want a less graphic report or something that you can send to your supervisor, you can export your data to a CSV file.
There are a variety of other features, such as the ability to track your income and transfer between accounts, set a yearly, weekly or daily budget (and to send an alert if you exceed it). You can sync your account via an email account or back it up to either an internal SD card, Dropbox or Google Drive.
There is a paid version that costs $3, but the only difference between that and the free version is a lack of ads.
Bottom line
AndroMoney was obviously built to be a general finance app for personal expenses, but it is flexible enough to be used efficiently for business expenses as well, especially if you're tracking expenses on an individual basis. It doesn't have any kind of OCR ability, and it has only very basic expense reporting features, but otherwise, it could work nicely for many users.
There are two apps called Expense Manager in our roundup. Like AndroMoney, the Expense Manager from Bishinews is a personal expense app that can also be used — quite efficiently — for business expenses.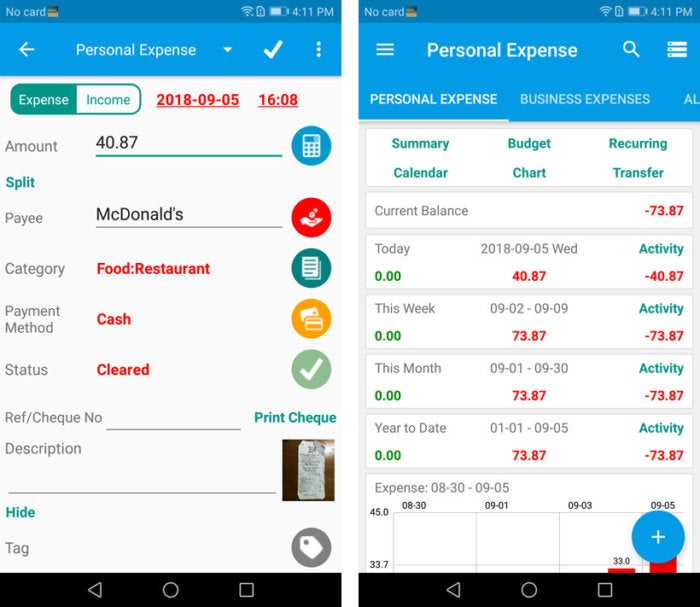 IDG
Expense Manager by Bishinews lets you enter a wide variety of categories, subcategories and other data (left). The crowded but informative main screen gives access to recent expenses, the various app features and different accounts (right).
Data entry
The app opens on a comprehensive page that contains two rows of buttons that lead to a variety of functions, together with a listing of your balance, income and expenses for the week, month and year to date. If you scroll down, you'll find two charts that offer graphic views of the data.
A plus button on the right corner of the screen leads to an entry page that offers a variety of fields, including date, amount, payee, category and payment method. You can categorize each entry as either expense or income. You can enter a reference or check number (and record that the check cleared), add a freeform description (with a photo of the receipt attached, if you wish) and/or add a tag (to, say, separate out a specific project) — and even calculate the tax. You can add a photo of a receipt as well, although there is no OCR ability.
Like AndroMoney, Expense Manager offers a wide variety of pre-entered categories and subcategories — for example, when I tapped on the Travel category, I was offered subcategories such as Airplane, Car Rental, Hotel, Food, etc. A plus sign on the category page lets you easily add a new main category. However, editing a category or adding a new subcategory is a little complicated: You have to first select Edit from the three-dot menu on the top of the screen and choose a category from there; you can then edit both that category and its subcategories.
One nice feature is the ability to create more than one account — for example, you could have one labeled "Personal Expenses" and one labeled "Business Expenses." The different accounts then become easily accessible from tabs across the top of your main screen.
Another is autofill — you can create a list of pre-entered expenses and then choose the one you want to use when needed; you can even have an entry automatically filled when you select a specific payee or payer.
When you're finished with your entry, you can either tap on a button labeled OK & New to save your entry and leave the screen up (together with most of the information), or just hit OK to go back to the main page.
Reports and other features
Unfortunately, while the app is up to date, its user help files are not. For example, when I was looking for information on creating a report, the manual told me to go to an Account Activities page that isn't labeled as such. I finally figured out that it was referring to the main page; by hitting the search button, I found a menu item called Search/Report that let me export reports in Excel, PDF and HTML formats. (The Excel reports include the receipt images in a separate ZIP file.) You can also access a wide variety of report types by going to the Summary button on top of the main screen; these are exportable in HTML format.
There are plenty of other features in Expense Manager, including tools such as a basic calculator, currency converter, tip calculator (always handy) and a credit card payoff calculator. You can set up a PIN for security, back up your data as a CSV file, sync with Dropbox or save to Google Drive, set a daily reminder and tweak the look of the main page. It just takes a bit of exploration.
Bottom line
Expense Manager by Bishinews is a flexible, feature-filled app that is suitable for both personal and business expenses. There is a Pro edition for $5 that is ad-free; according to the company, that is the only difference between the two.
This article originally appeared on https://www.computerworld.com/article/2914791/review-6-android-apps-that-track-your-business-expenses.html