Samsung has surprisingly beaten all other Android device manufacturers this year (except Google of course) with their speed of updating their devices to Android 11. The company has so far updated all its flagships to the latest release, plus a handful of mid-range devices which have also received an early update to Samsung's One UI 3. The latest device to join the list is the Galaxy M30s, which has just begun receiving the update.
Also read: Samsung Galaxy A51 receives Android 11 update a month early
The Android 11 update brings all of Google's new improvements to the budget device, including Chat Bubbles, conversation-wise sorting in the notification area, one time permissions, as well as other security and privacy improvements under the hood. Samsung's One UI 3 update also brings several new features and improvements to the system including a redesigned system interface and apps.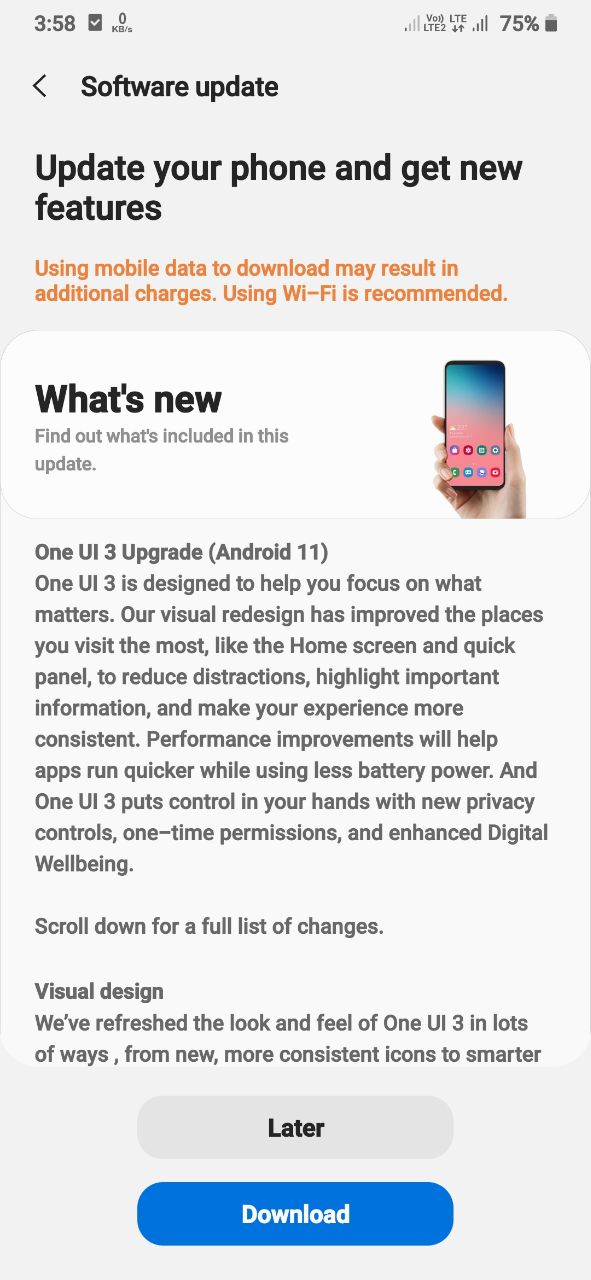 The update has just begun to roll out to Galaxy M30s users in the country.  (Navi S/Telegram)
The successor to Samsung's popular Galaxy M30 smartphone, the Galaxy M30s launched with the popular Exynos 9611 chipset that was a considerable upgrade over the Exynos 7904 in the M30. In fact, Samsung found that the response to the Exynos 9611 was so positive that it went on to power more phones last year like the Galaxy M31, M21, M31s, A50s, and A51.
Don't miss: Samsung continues update spree, rolls out Android 11 with OneUI 3.0 to budget Galaxy M21 and F41 phones
In fact, this is likely one of the reasons why Samsung has been so successful at updating its midrange offerings this year. Since most of these midrange devices are powered by the same 10nm chipset, optimising the software for the processor is less work for Samsung once it is done for one device. The Samsung Galaxy M31 was the first budget device from the South Korean company to receive the Android 11 platform upgrade, in January.
Samsung may have one been slow when it comes to updates, but the Korean manufacturer is now leading the entire ecosystem and second only to Google, with over 18 devices updated to Android 11 so far – and officially higher than any Android OEM at the moment. The Galaxy M51, A50, A21s, A31, A70, A80, A71 and Tab S6 and Tab S6 Lite should be next in line to receive the update according to Samsung's update schedule.
This article originally appeared on https://tech.hindustantimes.com/mobile/news/samsung-updates-galaxy-m30s-with-one-ui-3-based-on-android-11-71612782202307.html