tinyCam Monitor | Home

App changelog
tinyCam Monitor
Best Android app for your IP cameras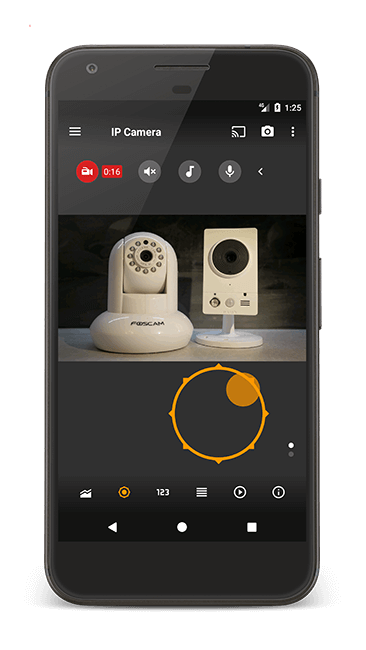 tinyCam Monitor is an Android app for remote surveillance/control for your private or public network/IP cameras, video encoders, DVRs, and webcams. Monitor your baby, pet, home, business, traffic, and weather remotely and securely. tinyCam Monitor provides best value to customers. See YouTube channel to find out how it works.
tinyCam Monitor has two versions: FREE and PRO (paid), and is available on Google Play, Amazon Appstore. It supports thousands of MJPEG/MPEG4/H264/H265/RTSP/ONVIF/P2P IP cameras.
Want cheap DIY DVR? Check our demo of tinyCam Monitor PRO running as DVR 24/7 recording on motion:
https://demo.tinycammonitor.com:8083/
Username: demo
Password: demo
Feature matrix

FREE

PRO

Ads

Yes

No

2-w audio (selective models)

Yes

Yes

A.I. object detection, face detection,
motion detection (both in-app and on-camera)

No

Yes

Video recording (local storage, time-lapse, FTP/FTPS, Telegram,
Dropbox, Google Drive, Microsoft OneDrive, ownCloud, Nextcloud)

No

Yes

tinyCam Cloud 24/7 subscription based cloud video service

Yes

Yes

Camera cloud events playback (selective models)

Yes

Yes

Background/DVR mode (background recording and
background motion detection)

No

Yes

Internal web server for remote recordings playback and live view

No

Yes

Android Wear app

No

Yes

Google Cast (Chromecast)

No

Yes

RTMP live streaming

No

Yes

TV support (Android TV, Amazon Fire TV)

No

Yes

Widgets*

No

Yes

Floating windows*

No

Yes

Picture-in-Picture

Yes

Yes

Tasker automation plugin

No

Yes
* – these features are available on Google Play Store only (not on Amazon Appstore due to Amazon policy)
Tiny Solutions LLC, 2012-2020.
This article originally appeared on https://www.tinycammonitor.com/