Xiaomi 13 Pro Intro
Nearly three years since it first dipped its toes into flagship territory, Xiaomi is finally ready to unveil its ultimate "flagship killer". The Xiaomi 13 Pro is the dream phone that many have been waiting for as it combines the new Qualcomm Snapdragon 8 Gen 2, a chip that fixes many of the issues that plagued Android phones just last year, and on top of that you have the second iteration of the most advanced camera phone sensor on the market.
The Xiaomi 13 Pro also introduces a brand new MIUI 14 interface running on top of the latest Android 13 and it has typical goodies like a super fast 100W wired charging support and a large battery inside.
So can this new phone be the one that finally moves the needle for Xiaomi in the flagship space and propels it to the top ranks? Let's find out! 
*This is a preview based on preliminary information about the phone. The Xiaomi 13 Pro release date is set for Sunday, December 11th, 2022.
What's new about the Xiaomi 13 Pro
Snapdragon 8 Gen 2 chip inside
Uses faster LPDDR5 RAM and UFS 4.0 storage
Triple camera system with 1-inch type Sony IMX989 main cam sensor
6.7-inch screen with latest E6 Samsung OLED panel
4,820mAh battery
120W wired and 50W wireless fast charging
Debuts new MIUI 14 interface
Table of Contents:
Xiaomi 13 Pro Specs
Here is a quick look at the Xiaomi 13 Pro specs:
Specs
iPhone 13 Pro Max
Size and Weight
163 x 74.6 x 8.38mm, 229g (ceramic)
163 x 74.6 x 8.7mm, 210g (plain leather)
Display
6.7″ E6 Samsung OLED panel
LTPO 4 120Hz dynamic refresh rate 
Processor
Qualcomm Snapdragon 8 Gen 2
4nm, made by TSMC
RAM and Storage
12GB LPDDR5 RAM + 128GB UFS 4.0 base
12GB RAM + 256GB storage
12GB RAM + 512GB storage
Software
MIUI 14 on top of Android 13
Cameras
Main camera with 1″ type sensor, 23mm, f/1.9
75mm 3.2X zoom with OIS
14mm ultra-wide
Single front cam
Battery Size
4,820 mAh
Charging Speeds
120W wired charge with Surge chip for battery protection
50W wireless charging
10W reverse charging speed
Price
unknown
There is a lot of interesting detail in this specs sheet that we will dissect further along this article, but first, did you know that we have detailed specs comparisons for all popular phones on our website? Check out two pages below that compare the Xiaomi 13 Pro against rivals:
Xiaomi 13 Models
Good news is that the Xiaomi 13 series are expected to be sold globally, a welcome change from the otherwise exciting Xiaomi 12S Ultra, which was only sold in China. Global availability, however, excludes the United States, where Xiaomi phones are not present.
As far as models, there are two phones in the Xiaomi 13 family, the vanilla Xiaomi 13 which is a more affordable and smaller (6.36″) phone with a flat screen but also with a few of the advanced features missing, and then you have this here Xiaomi 13 Pro with a 6.73″ curved screen and it is packed to the gills with all the features. 
The Xiaomi 13 Pro, on its part, comes in three different versions, one with a textured leather-like finish, one with a ceramic back, and one with a more traditional glass back.
Xiaomi 13 Pro Design & Colors
Ceramic finish, slim bezels and excellent craftsmanship all around
First of all, the Xiaomi 13 Pro is certainly a large phone with that 6.7-inch screen, but with a curved screen and extremely slim bezels around it, it is actually a bit more compact than you might think, which we appreciate. 
The three different versions are as follows:
textured leather-like finish in blue
"field green" color with ceramic back
white version with glass back 
Each of these versions comes with its own set of advantages. The leather like finish is warmer to touch and there is something more organic and welcoming to such a finish, and it's also lighter than the other two. Glass is self-explanatory, and ceramic is a material we rarely see on phones, but that has better scratch resistance than glass and a slightly different feel. 
You also get IP68 water and dust protection, just like most flagships.
Xiaomi 13 Pro Display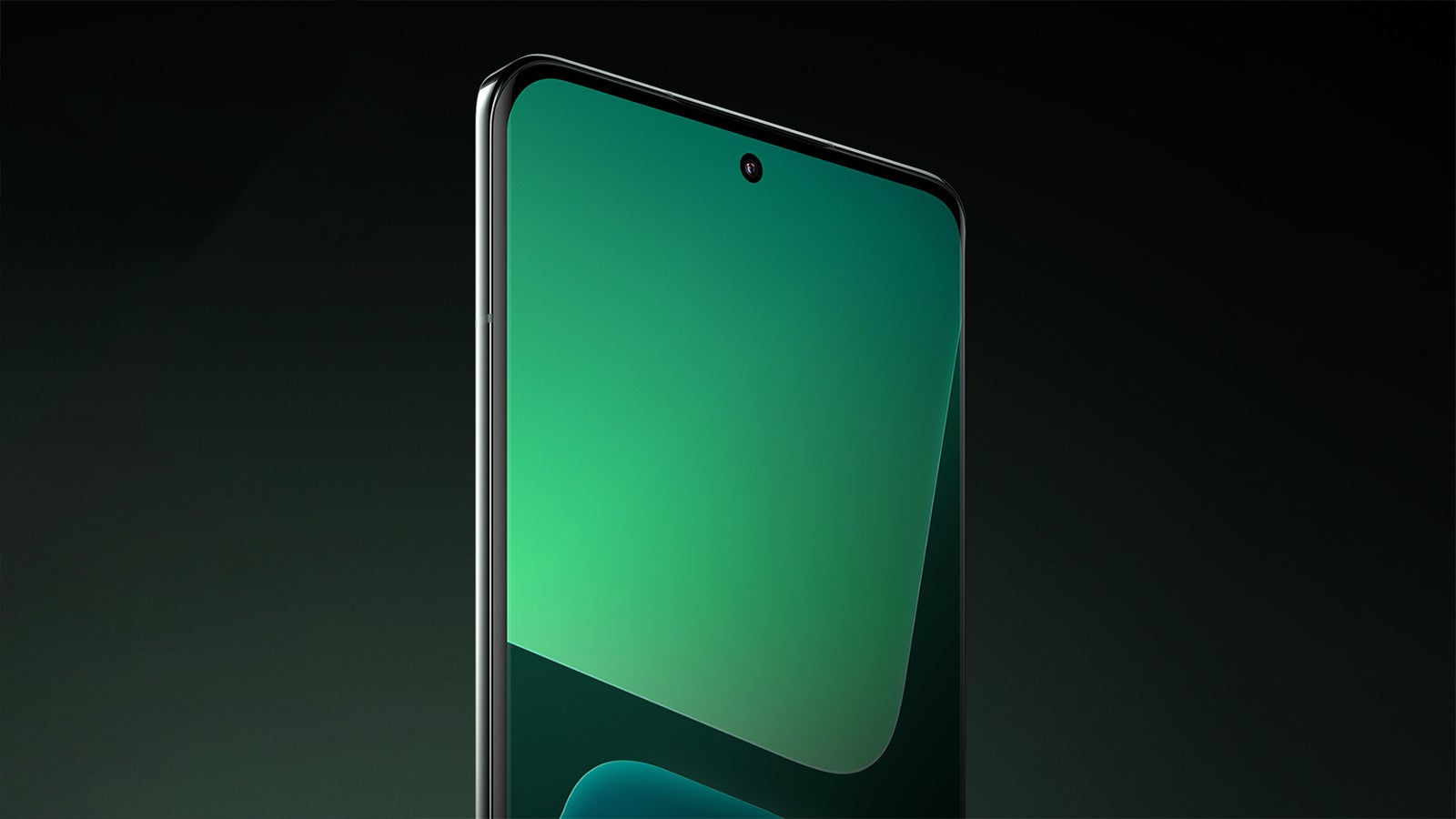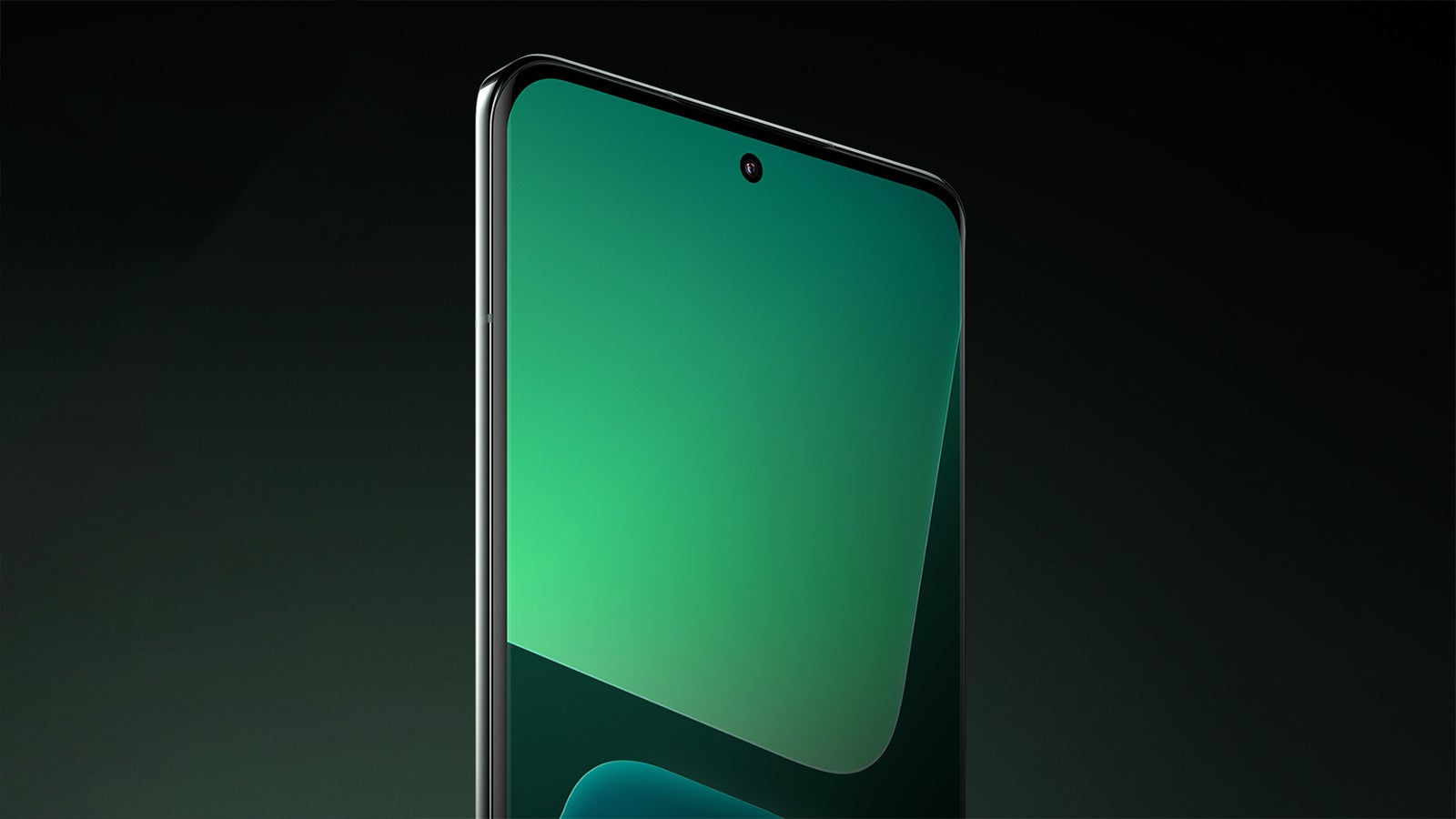 Xiaomi 13 Pro comes with 6.7″ curved display using the latest Samsung E6 OLED panel
With a large, 6.73-inch screen, the Xiaomi 13 Pro has plenty of real estate, but what's more impressive is that this is the latest generation Samsung E6 OLED panel with improved colors and higher brightness.
The phone also has extremely slim bezels around the screen for a very elegant look, and bezels are actually noticeably smaller than what you get on a Galaxy or an iPhone, something that Xiaomi is obviously proud of.
The screen comes with LTPO 4.0 technology and it supports a 120Hz dynamic refresh rate for smooth scrolling. 
Xiaomi 13 Pro Camera
Size matters
The real focus of the Xiaomi 13 Pro, however, has got to be its camera system.
The triple camera system is housed in a glass rectangle on the back of the phone and it all grows organically out of the phone, a nice design touch.
Most importantly, these are some really powerful cameras. Here are the Xiaomi 13 Pro camera specs:
1-inch Sony IMX 989 Main cam, 23mm f/1.9
75mm 3.2X Zoom with floating lens, close-up focus at 4in (10cm), OIS
14mm f/2.2 Ultra-wide
The gigantic Sony IMX 989 1-inch type sensor is what all the buzz is about. It's a bigger sensor than what you get on a Galaxy Ultra or iPhone, and this alone is an important advantage.
These official Xiaomi 13 Pro sample photos suggest that this camera goes above and beyond. Photos in low light are outstanding as the 23mm f/1.9 lens has a fast enough aperture and a wide look that makes it very versatile.
The first picture is particularly stunning as we see a bartender making a firework cocktail, a cool effect achieved by sprinkling cinnamon powder and captured beautifully by the Xiaomi 13 Pro. ​​​
Xiaomi goes with a 3.2X telephoto zoom lens, a change from longer-range periscope lenses, but this might be actually a worthy change as the new telephoto lens also works in dim conditions and is very versatile.
One cool trick of this new zoom lens is a floating element inside that allows the lens to zoom at just 4 inches (10cm), so you can shoot these close-up photos. It's a stunning look that you usually expect to get out of a dedicated camera, but not a phone.
We will be updating this article with more camera tests and samples of our own soon, so stay tuned for that.
Xiaomi 13 Pro Performance & Benchmarks
Snapdragon 8 Gen 2, LPDDR5 RAM, UFS 4.0 storage, or in other words — cutting edge performance!
Xiaomi is not cutting any corners with the Xiaomi 13 Pro, it goes all out: Snapdragon 8 Gen 2, LPDDR5X RAM and UFS 4.0 storage, and the storage alone will deliver a marked improvement in speed.
UFS 4.0 is quoted to bring a huge leap in read/write speeds, plus it allows the actual chips used to be smaller. Expect double the speeds compared to UFS 3.1, with UFS 4.0 reaching up to 4,200MB/s for read and 2,800MB/s for write. This type of flash memory is said to be the biggest upgrade in the field in the last three years.
Performance Benchmarks:
Preliminary results show surprisingly good performance all around and this will be particularly good for gamers as the thermal management of this new chip is improved, so it won't throttle as easily as previous ones.
Xiaomi 13 Pro Connectivity
We still don't know too much about the connectivity of the Xiaomi 13 Pro.
It will be a 5G phone without a doubt, but what bands it will support and whether there will be different versions for different markets is a question we don't yet have an answer to.
Xiaomi 13 Pro: MIUI 14 on top of Android 13
The Xiaomi 13 Pro will also serve as the launch pad for the new MIUI 14 custom interface on top of Android 13.
This is a huge release for Xiaomi and is expected to come with a slew of new features and improvements.
We have a love-hate relationship with MIUI. It's a well optimized interface for speed and it runs very smoothly, but also it aggressively kills apps running in the background which results in problems with timely delivery of push notifications. In other words, some apps may not deliver important notifications in real time and in our experience, the few toggles that Xiaomi provides to fix that don't really work.
Let's see if Xiaomi even addresses those issue with this new release.
Xiaomi 13 Pro Battery
Just slightly smaller than most, but much, much faster to charge
The Xiaomi 13 Pro ships with a 4,820 mAh battery, which is slightly smaller than your typical 5,000 mAh Android flagship, but really not by much.
This seems like an adequate size that should guarantee you a full day of use, with even more intense tasks. More modest use might stretch that a bit, but so far we don't expect 2-day battery life out of this phone.
Xiaomi 13 Pro Charging Speeds
While the 13 Pro might not have the largest battery, but with 120W wired fast charging, it certainly has one of the fastest charging speeds on a mainstream phone. It should fill up the battery from 0 to 100% in about 20 to 30 minutes.
You also have 50W wireless charging, and the phone can also act as a wireless power bank of sorts with the reverse wireless charging feature at 10W.
Xiaomi 13 Pro Audio Quality and Haptics
The Xiaomi 13 Pro loses the Harman-Kardon branding, but is still expected to feature quality speaker system with a bottom firing main speaker and a helper speaker in the earpiece.
There is no 3.5mm headphone jack on the phone.
Xiaomi 13 Pro Competitors
The Xiaomi 13 Pro is a full-fledged flagship and it is going against the very best phones.
Here is the list of its competitors and why you might prefer one of them over the Xiaomi 13 Pro:
Samsung Galaxy S23 Ultra — S Pen support, larger battery, Samsung UI, telephoto zoom, but expected to be more expensive
Apple iPhone 14 Pro Max — Apple ecosystem, iOS platform, ease of use, but more expensive
Google Pixel 7 Pro — Affordable, great camera quality, day one Android software updates
Vivo X90 Pro Plus — Similarly advanced camera, Vivo software
Xiaomi 13 Pro Summary
The Xiaomi 13 Pro shapes up to be one of the most exciting and impressive flagship phones of 2023.
Xiaomi has arguably the most advanced camera sensor on the market and it is not afraid to use it, it has improved the telephoto camera, and overall photos look poised to beat images from the Galaxy Ultra and iPhone Pro series.
If Xiaomi prices this reasonably, it will finally give us a worthy alternative to the usual trifecta of Apple, Google and Samsung.
This article originally appeared on https://www.phonearena.com/reviews/xiaomi-13-pro-review_id5665